It's been a hectic few days in Miami attending the AIFD Symposium. My induction into AIFD, this amazing organization, was the highlight of my floral career and of Symposium 2012. I just can't believe that its over! There were inspirational speakers and innovative designs.  I can't wait to get back home and incorporate what I learned this symposium into my designs.
I want to thank AIFD and it's members for making me feel so welcomed! Can't wait for the next one in Vegas!!!
Also a big congratulations to the City College of San Francisco (my alma mater) that won best overall school in the student competition! These girls worked hard and long to get to this point, with Jenny Tabarracci coaching them all along the way. Jenny has been an amazing mentor not only for me but to these students as well. She is grooming the next generation of AIFD members!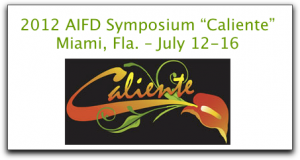 Time to channel my inner LMFAO…tomorrow I'm off to Miami for AIFD Symposium 2012. I'm excited abou this year's Symposium as I officially get inducted as a member of AIFD!
I'm using this occasion to re-launch my floral design blog here at Simple Stem.  I'm planning on posting photos and thoughts from Symposium and look forward to meeting old floral design friends from around the world as well as make new ones.